The Main Hall.....
is the core of the premises and has a conventional layout with a raised stage at one end. The hall has an area of approximately 88 square metres, being 14.6m long by 6m wide (48ft x 20ft), excluding the raised stage. The stage is 6m wide by 3.6m deep (20ft x 12ft) and can be accessed from both sides at the rear or by means of moveable steps from the front.
The licensed capacity is 200 for close seating (e.g. stage performances) and 100 for seating at tables, although a more comfortable capacity might be 120 and 80 respectively.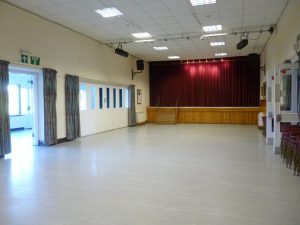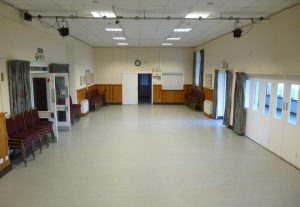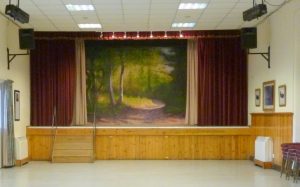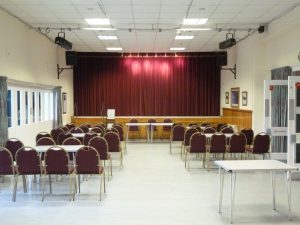 Features:
Upholstered seating and tables, see here, to support a variety of layouts
Serving hatch access from the Kitchen
Independent door access from the Kitchen
Door and foldaway partition access to the Green Room
Amplifier for background music and for use with stand or lapel microphone (available on request)
Audio loop system
WiFi
Two sets of tracked curtains on the stage
Drop down large screen for projection at the front of the stage
Ceiling mounted digital projector
Three-quarter upright tuned piano in good condition
Thermostatically pre-set, fan-assisted space heaters
Details of other items that may be of use can be found here.