Looking for a Venue?
Lavant Memorial Hall is a well-appointed Village Hall situated in the South Downs National Park just outside Chichester in West Sussex. The hall overlooks one of the prettiest Village Greens in the county, with picturesque views of the South Downs and the Goodwood Estate. It offers an ideal venue for Private Parties, Wedding Receptions, Exhibitions, Craft Fayres and similar events.
The hall offers a variety of spaces that can be hired separately, or in combination, to provide greater flexibility. Please visit our "Facilities" pages for more details. It is licensed for entertainment, the playing of live and recorded music, and has a premises licence for the sale of alcohol, although this is not available for private functions. We recommend the use of a Temporary Event Notice if hirers wish alcohol to be sold during their hire.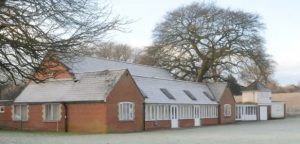 Want to Hire?
Should you be interested in hiring, whether on a one-off, occasional or regular basis, please take a look at the "Prices" and "Make Bookings" pages and then get in touch. Prices, Conditions of Hire and lists of Furniture & Equipment can be also be downloaded from this website .
What's On?
The hall is regularly used for Meetings, Lectures, Classes, and various forms of Entertainment and Leisure. The "live" Hall Diary has all the details.  For more information about the role of the hall in the community visit our "About" page.
Thinking of Using the Green?
Please note that use of the Village Green is controlled by Lavant Parish Council and further information can be found here.

News and Events
The LMH Annual General Meeting ...
will be held at the Hall on Tuesday 5th December at 6:30 pm. This is a public meeting so please come along and have your say. You can see the agenda here. We are always on the look out for potential recruits to the management committee!  We just ask that you let our secretary know if you plan to attend so that we can make suitable arrangements. ([email protected])

The BIG ONE's back ...
and we need your jumble! So why not  "Sort Out to Help Out"? Make it a new year resolution!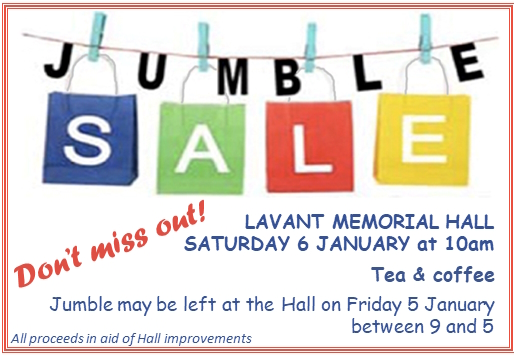 The iconic Lavant Phone Box ...
has been lovingly restored and sited at the entrance to the Hall car park - just don't try and make a phone call! Watch out for some creative use of the interior in due course. The box was originally located on the south side of Pook Lane, opposite Parker's Cottages, where there was no safe access at the edge of the road, and had fallen into disprepair. Under the auspices of the Lavant History Project and with help from the Goodwood Estate, Lavant Parish Council and the developers of Great Elms, the K6 box has been restored and re-sited where it can both be accessed safely and its totemic presence can play a part in calming traffic flows.