The Hall
Lavant Memorial Hall is a registered Charity, Number 305390/1, administered by a Voluntary Management Committee, which meets regularly to deal with the business and administration of the Hall.
The original Main Hall was built in 1921 as a memorial to those who died in the First World War, 1914-18. Additions were made in 1950 and the hall enlarged and re-dedicated in 1973. The Green Room was built as an extension in 1994, greatly increasing the available floor space and the scope for multiple activities.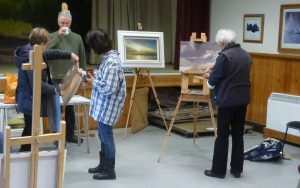 Since the turn of the millennium a number of significant enhancements have been undertaken. A toilet for the disabled, with baby-change facilities, was added in 2005 and solar powered supplementary electricity generation was installed in 2012/13. The hall had been badly affected by flooding in 1994 and was hit again in 2013, so enhanced flood defences were installed the following year. The kitchen was extensively refurbished in 2015 and, more recently, WiFi added in 2017.
The Management always welcome comments and suggestions for the continued success of the Hall. You can read the Management Committee Meeting minutes here.
Support the Hall
If you would like to support the ongoing development of the hall, whilst enjoying the opportunity to win cash prizes in a monthly draw, why not consider joining the "200 Club"?