What Facilities Are There?
Main Hall and Stage area
Green Room adjoining the Main Hall and offering approximately 60% additional space, with catering area and bar counter
Modern Kitchen with serving hatch to the Main Hall
Bleaches Room for smaller gatherings
The premises are wheelchair accessible and are on one level, save for the stage area.
Details of each of the spaces and a floor plan can be found by following the links on the right, as can the Hall Health & Safety Policy Statement and the Fire Emergency and Evacuation Plans.
Now with WiFi throughout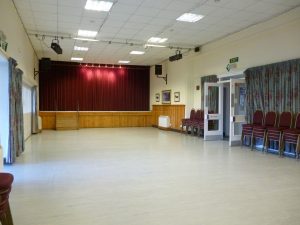 Need more space?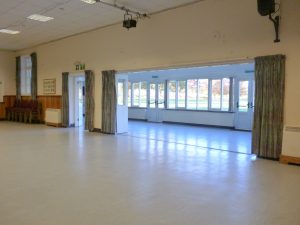 The Main Hall and Green Room are equipped with thermostatically controlled, fan-assisted space heaters that have been preset to ensure an appropriate temperature.
There are two sets of toilet facilities, 3 female and 2 male in total, which can be accessed independently from the areas above, together with a large disabled toilet equipped for baby-changing. Wash hand basins with hot and cold water are provided in each facility. The hall also has a self-contained Sports Section with two changing rooms, an additional toilet and showers.
Will My Event Fit?
Main Hall

Green Room

Total

Capacity

Licensed

Comfortable

Licensed

Comfortable

Licensed

Comfortable

Close seating

200

120

120

60

320

180

Seated at tables

100

80

60

40

160

120